Welcome to Comptank Corporation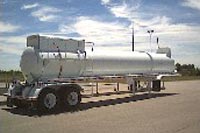 Our new light weight composite tank trailer. The 5,500 gallon version weighs from 10,300 pounds. That means an extra 2,500 to 3,000 pounds of payload vs. steel, rubber lined equipment.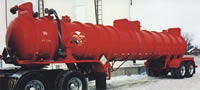 Armoured Thermoplastics are a class of dual laminated materials capable of handling the severest corrosive and abrasive services.
We are your source for DOT approved (407/412) FRP Composite Tank Trailers for purchase and leasing. We provide the ultimate in corrosion resistance, light weight and low maintenance costs for haulers of corrosive liquids.s and since then has made major advancements in tank trailer technology. We created the first dual laminate construction of armoured thermoplastics. This innovation offers the finest capability available for a corrosion barrier.
Proven FRP performance in reduced maintenance costs and down time
Proven FRP light weight and strength
Proven FRP performance in corrosive liquid compatibility